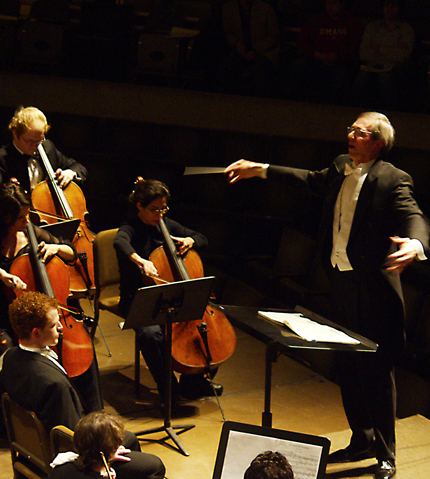 E. Wayne Abercrombie, Professor of Music Emeritus and former Director of Choral Activities at the University of Massachusetts Amherst has conducted choirs — at all levels — and orchestras, taught, and lectured nationally and internationally. A graduate of Westminster Choir College (B.M., M.M.) and Indiana University (D. Mus., With Highest Distinction), he has conducted All-State choirs in Georgia, Iowa, Maine, Massachusetts, among others, and is 2016 conductor of the New Hampshire All-State choir. His orchestral experience includes three years as Director of the UMass Orchestra, and as a conductor of the Five College Orchestra, as well as guest conductor of the All New England and Massachusetts All-State orchestras.
He has been guest conductor, teacher, or lecturer at Amherst College, Boston University, Northeastern University, Temple University, Western New England University, Worcester Polytechnic Institute, at the Seventh Taipei International Choral Festival, University of Massachusetts Summer Choral Institute, Yale University, and the University of Delaware Choral Academy in Aix-en-Provence, France. As Past President of Massachusetts and Eastern Division ACDA, he has also presented interest sessions on conducting for state and division conferences (the next one in Boston, 2016). He is a co-founder and former Artistic Director and Conductor of the Children's Chorus of Springfield (MA), member of IFCM and NAfME.
As part of his continuing interest in the teaching and learning of conducting, he has observed the Eric Ericsson Masterclass (Haarlem The Netherlands), classes in conducting at the University of Birmingham (UK), Yale University and others, and has been Chair and Co- Chair of the Conducting Masterclasses of the ACDA Eastern Division (2014 and 2016). He was Massachusetts ACDA Conductor of the Year (2007), and is recipient of the Choral Arts New England Lifetime Achievement Award (2013) and the Eastern Division ACDA Helen Kemp Award (2014).
He feels most fortunate to have his joy be his profession, to be able to continue practicing it, and to have experienced the teaching of Julius Herford, Nicholas Harsanyi, Don V Moses, Fiora Contino, Warren Martin, and Ray and Virginia Smathers. He is inspired by both experienced and younger colleagues who are moving the profession forward. Especially gratifying is life with his wife, Kayla Werlin, and seeing his wonderful children, grandchildren and great-grandchildren grow into such caring folks.